Nokia Sl3 Unlock Server Free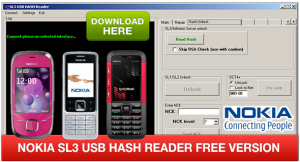 Bruteforcemarket.com - Nokia unlocker






This is the Nokia Bruteforce Market(BFM) project of Chimera Team.

There are loads of webpages, where Nokia SL3 unlock / hashcalculation based unlock is offered for Nokia SL3 phones, but this iscompletely different now. You have the opportunity to upload a fileread out before by a box of course, but to do this, in some cases youhave to buy an unnecessary product that you will use for this purposeonly. It's time-consuming, etc...

Thecheap and professional solution is here, allyou have to do:

Download ourmultilanguage Nokia SL3 unlocker /Hash Reader applicationand simply read out the necessary data with a simple USB cable, thatwill be uploaded to the server immediately.
After this you can follow the status of the calculation. Once it isdone, the NCK is entered immediately - no matter how many times it wasentered incorrectly before. (BFM unlock software will reset phones with10/3counter too.)


Here's the solution for you! No box, no smart card

onlyan USB cable

.
We can unlock up to 400 Nokia SL3 phones daily
Nokia SL3 average calculation time: 2.8 minutes/phone + waitingtime of queue
Very fast unlock for cheap price
Nokia BB5 RAPU, RAP3gV4, RAPIDO, BROADCOM, X-Gold 2 CPU's aresupported via USB
Our system is available 24/7
Multilanguage

free client

available
If you are 'home user' you can unlock your single phone too.

Noextra skill needed!

E-mail notification after your job is done
Free SMS notification after your SL3 calculations are ready
Cheap Nokia SL3 unlock
Reseller option. Contact us for more details.
BruteforceMarket allows you to unlock your Nokia SL3 phone usinga standard USB cable supplied with your phone.

The Nokia SL3 unlock method is completely safe, you can restorethe lock state any time to the original state if needed for warrantyclaims.
.bcl, .log, .sha, .fnx logs and .bat files are supported - makesure you read log from a working phone with valid simlock and IMEI (not12345..)
log file name MUST contain 15 digits IMEI
When you read the log, make sure phone has 15 digits NCKotherwise calculation will be 'No result' and there is no refund on 20digits NCK!
Don't send Telcel mexico logs -> Entering NCK (Network ControlKey) has been disabled by provider, you cannot enter to phone!
Which networks are supported?
Any Country
All worldwide networks are supported except Telcel Mexico
How to upload new job via website:
Press 'New job', and press 'Click here to upload...'
Just select log file(s) and click to 'Open'
Valid formatted logs will be uploaded to queue andcalculating will be started
BruteforceMarket's server park
Nokia Sl3 Unlock Server Free Download
We unlock Nokia SL3 Locked phones. Step by step procedure: You read IMEI and HASH using HTI, ATF, Cyclone, Fenix, etc. You input IMEI and HASH into our website. When cracking is done we automatically send you by email Master SP Code and NCK Codes. You enter your code and unlock phone.
Nokia Sl3 Unlock Server Free Online
Download: Nokia Care Suite for Store 2011.18.3 (Virus Free) Tested and Working. Description: Care Suite (CS) is a Multi-protocol software who support latest nokia CDMA,GSM and WCDMA (328 models covered) It's a Free software (OpenSSL), relased by Nokia Care for stores.
There was a long-awaited support for unlocking Nokia BB5 SL3 with MXKEY 1.7 - To be able unlock Nokia SL3 is needed one-time activation of your MXKEY - This is a local solution to unlock that does not require to wait until a slot becomes free for your phone.